EarthWise Window Cleaning

was founded in 2015.
We are an organic offshoot of our sister company, EarthWise Hauling. EarthWise Hauling has been offering eco-friendly junk, trash and debris removal services since 2008, but in 2015 Joe Roth, the founder and CEO, decided to enter the world of window-cleaning.
Both companies offer residential and commercial services and both companies share the same eco-friendly business model. From the trucks that run on clean-burning natural gas, to the uniform shirts made of recycled water bottles and organic cotton, EarthWise Window Cleaning is truly an eco-friendly company.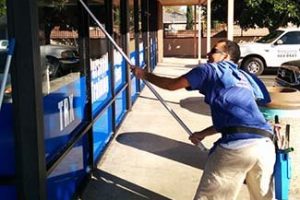 One of the biggest ways we set ourselves apart is in our cleaning techniques.
We clean exterior glass, windows and solar panels with a custom designed, truck-mounted, solar-powered pure water-cleaning system.
With this system, no chemicals of any kind are needed or used.
Only pure deionized water and a specialty brush made of boar's hair are needed to clean your glass.
For interior glass-cleaning requiring old-school squeegee work, we use a pinch of biodegradable soap and pure water.
. If you have any fragrance sensitivities, just let us know in advance, and we can use special soap that is hypoallergenic and fragrance-free.
Our goal is to be the most client-centric window cleaning company in Orange County, while at the same time keeping our carbon footprint as minimal as possible.
Call or email us for more info or to schedule a free estimate

for your home or business